A professional video conferencing tool to upgrade your video calling experience.
The world has changed quite a lot in the past two years. Things like working from home are now as common as wearing a mask while stepping out of the house. And within these two years, so have our needs and requirements.
With the world constantly changing, the work setup needs to change with it. There is a need for a webcam that gives you professional quality output while also allowing you to remain flexible with the environment. Believe it or not, Jabra PanaCast 20 is just that.
Video conferencing is now a standard of communication all around the globe and with Jabra PanaCast 20 in your arsenal, you are sure to stay connected with all your contacts on the go. But, what makes Jabra PanaCast 20 such a versatile piece of technology?
Firstly, the hardware.
If you want to focus on quality and not run out to buy a new webcam for your video calls every few months, Jabra PanaCast 20 is the one to go for. With 4K Ultra HD video quality and intelligent light optimisation, this technological upgrade is worth every penny. Can you imagine, even with a 13MP camera and an advanced AI, it weighs just 139g? I mean talk about the portability factor!
Jabra PanaCast 20 also takes care of your privacy with a pre-attached cover that can easily slide onto your camera while not needed. The clip at the bottom of the device, allows the camera to move along the hinge and also is used as the clip to be added to the monitor.
Along with the camera, you also get a 1.5m long cable with Type-c at one end (to be added to the camera) and a Type-A at the other. Yes! It is that easy. Just connect the cable and you are all set to upgrade your work life. To make your life a little easier, Jabra PanaCast 20 comes with a snug little cover for those who live a little more on the go.
To give you a complete experience, Jabra PanaCast 20 has 3 in-built MEMS Mic. Time to say goodbye to the microphones as well as all the other issues that come along with them.
Now let's talk about the engineering that makes it work – the software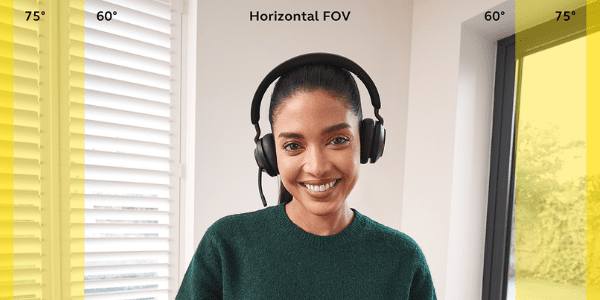 Focusing on its convenience of it, Jabra PanaCast 20 is as easy as plug and use. Though to keep the webcam running on its latest software updates, it is recommended to download Jabra Direct software.
In order to control this high-quality webcam, there are two options available. The first is through the camera controller which opens up in a separate window and allows you to see what the camera is looking at. With intelligent zoom and picture-in-picture preview. And the other is of course the manual options available at the bottom. Do you want to know the best bit? You can save up to two settings! No need to adjust the settings again and again.
So, what is our conclusion?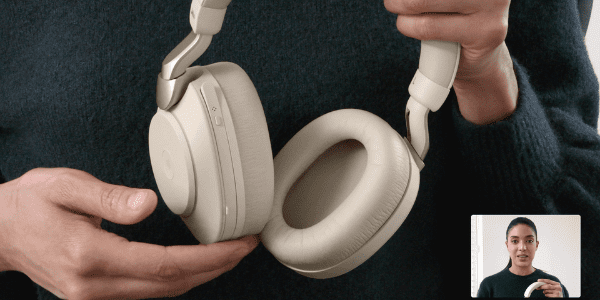 Jabra PanaCast 20 is definitely a worthy investment. With this video conferencing tool with its well-integrated AI, your video calls quality is sure to improve immensely. The intelligent zoom makes the conversations more engaging and adds to the personal connection that is sometimes missing while connecting in this digital world. Another positive is the picture in picture setting which is great for the people dealing with products that require detailed discussions.
With the world moving into a hybrid model, this is the advancement that was needed. Jabra PanaCast 20 comes as a saviour to enhance our remote working experience. It is time we upgrade our video-conferencing set up to give the meetings a more professional feel.
So, as for our recommendation, Jabra PanaCast 20 is the one to go for, if you are looking to upgrade your video conferencing setup.
Frequently Asked Questions
What is intelligent zoom?
While zooming, the camera will automatically center your face. It means you won't have to worry about going out of focus every time the webcam is fidgeted with.
What do you mean by picture-in-picture display?
It simply means while using the Jabra PanaCast 20, you will be able to see the camera's view in a small window at the bottom of your monitor screen. This is a great tool for whiteboard discussions and also to make sure you look presentable to others.
What is the default angle for the intelligent zoom?
Though 90 degrees is what is recommended to work with, but you can also select 75, 60, or 45 degrees as per your comfort.