When at work, everyone has their ways to calm down their nerves and stay productive no matter what. Slogging for nine hours non-stop, taking calls from clients, getting through work deadlines, trying to maintain work-life balance and always trying to fetch brownie points from the manager- the corporate world is indeed a roller coaster ride. If entering into a professional world is full of chaos, hectic, and creates ups and downs, keeping one's mood afresh becomes mandatory. To release stress and stay focused, listening to music using headphones becomes the most common recreational activity that can be enjoyed simultaneously while working.
You will find every legit corporate employee with headphones on while working on the laptop or wrapping up any file work. Before a flexible working environment existed, using earphones or any other audio gadgets used to be considered a taboo or a symbol of not being focused at work. This behavior was equated against work ethics but now a lot of organizations have created a healthy working environment for their employees so that they can enjoy working in their personal space. Does this strategy help people to perform well in their job role or hinder their attention? As per the latest study and research conducted on the millennial generation working in 9-6 corporate set-ups, more than half of the people prefer listening to their favorite music while working. To find more about all the possible reasons behind this latest trend, continue reading this blog
To Get the Work Done Properly
People who love listening to music don't need a reason to groove on their favorite beat. You will find such people everywhere- gym, metro, office, on a morning walk and where not! These people who have their headphones around all the time have multiple benefits to quote as why listening to music is therapeutic. One such reason is the benefit of work productivity. Vast numbers of individuals find their attention drawn towards work more if they are listening to any song or music. Doing this doesn't only block the other types of noise but also made them focus on one particular source of the sound. Headphones also help to cut down the sound of phone calls, people chit-chatting in the background, and enable people to concentrate on just two things- the computer screen and their favorite song track.
For Getting Relieved from Tension and Anxiety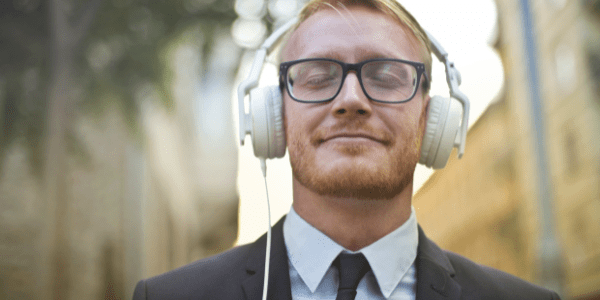 Music has a profound effect on our body and mind. Studies have found that listening to music can help calm the nerves and also reduces the stress that we usually take while working. Such is an Indian work culture that all of us drowning under the pressure of work-related stress and fatigue. According to one such research, Indian millennials put in more hours than their peers from the rest of the world and that's what leads to health-related issues, work anxiety and depression. Listening to music helps in releasing stress, decreases anxiety and contributes to mental health by making the mind rejuvenated to work without any pressure. This is quite significant that music tends to improve both productivity and work performance, especially in the office. Listening to music help manage anxiety, to remain motivated and positive.
To Convey that You are Busy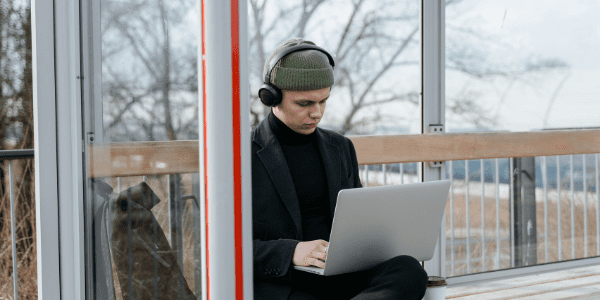 Establishing a cordial relationship with colleagues and co-workers is important to increase productivity and job satisfaction. However, it is even more important to draw some lines and stick to just a professional relationship. If your workplace is noisy and you often find co-workers getting indulged in office gossip, next time plug in your favorite song while wearing headphones and keep yourself away. By doing this, you can create your personal working space and nobody will bother you unnecessarily. Simply turn on your music and turn off the unwanted noise and conversation that has nothing to do with you.
To Boost Your Motivation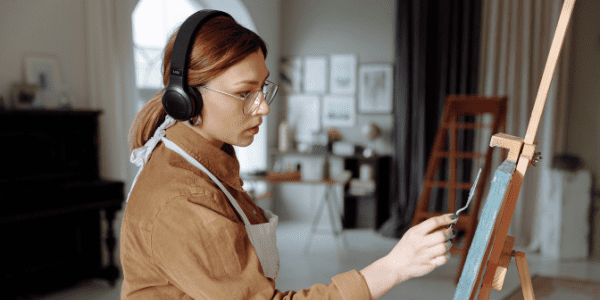 We all have our share of bad days and good days at work. You might feel more than motivated to work even on working Saturday and coming to the office on some Monday will feel next to impossible. And people who love having music as a vital part of their daily lifestyle will surely understand it has different benefits including building motivation and encouraging yourself to work hard. Those days when work pressure makes you feel burnout, stretch yourself, take a deep breath and take some break. Plug in your headphones and tune in to any motivational video, song, or podcast and get back to your business. The essence of the music provides a soothing effect to the mind and provides a much-needed boost to the listener.
Saves Time and Energy at Work
Usage of headphones while working from the office or virtually not only makes the mind focused on current job role but also saves time. Being dedicated to one particular task and completing it without any hindrance or interruption saves time that we waste on procrastinating. Likewise, when you complete your assigned tasks before the deadline, you will feel motivated to work further and save your energy from rushing into things at the last moment. When the external noise gets canceled, there's nobody initiating conversation to divert your mind, your brain works faster and saves up time for other things. Music and headphones can be a great savior for getting the work done. Apart from providing recreational pleasure, it also pumps the motivation to be your best and contribute towards work to the fullest. So don't just wait but add your favorite headphones to the cart now and enjoy a hassle-free office routine.