Jabra Evolve2 75 is a versatile Bluetooth headset with a whole bag of features to boast about. Ranging from a slick design to an exceptional technical backing making it the best of both worlds. This sleek and sophisticated wireless headset is available in two colors – black and beige with a semi-matte feel.
This wireless Jabra headphone takes no shortcuts when it comes to its superior mic quality, proficient audio drives, and of course the active noise cancellation (ANC). It also holds an upper hand over its predecessor – The Evolve 75. Also, it includes a shorter boom arm and an extended battery life, making it perfect to keep you connected while on the go.
The Perfect Hybrid Model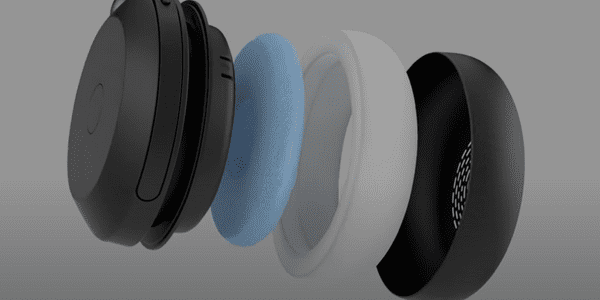 It comes with soft yet steady padding on its headband as well as the insides of the perforated earpads, making it comfortable to wear for long durations. Since it does not exert the uncomfortable pressure as most earphones do, it can be worn for hours on end, without becoming uncomfortable.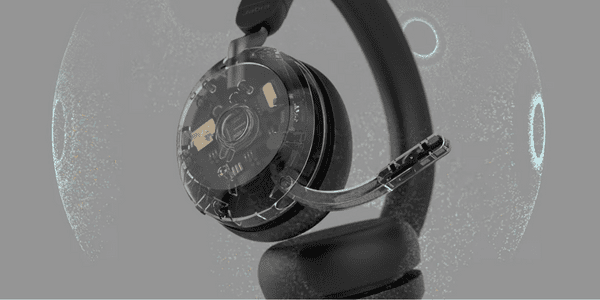 Talking about internal engineering, the ear sets contain 40mm, audio drivers. They are capable of delivering a 20Hz to 20,000Hz range of frequency, for your entertainment needs and 100Hz to 8kHz for your voice calls. It is compatible with the latest Bluetooth technology and supports AAC and SBS Bluetooth codecs.
Not to mention, this pair of wireless headsets has been certified by all major Unified Communication platforms, including key players like Microsoft. The buyer also has the option of selecting a USB-C or the USB-A variant.
The mic attached to the right earpiece is retractable, to make sure you look cool wherever you are. Another added feature is the mute button, functional when the boom mic gets retracted, which also doubles as a voice assistant button. On the opposite side of the same earpiece are three multifunctional buttons for track navigation, volume control, and playback. With this, you also get an easy-to-access button to pick up the on-coming calling straight from the headphones – need to fondle through your bag to try and find your phone!
According to Jabra's estimate, Evolve2 75 can last up to 36 hours for music usage or 24 hours for a conversation on a fully charged battery with 100% battery life (Kindly note these are approximate values).
The packaging for the the headphone includes a Bluetooth dongle (Jabra Link 380) to provide a stable connection while also extending the range up to 100 feet, a UBS convertor cable for charging, and also a soft case to help carry all these goodies. There is also an option to buy a charging dock at an additional cost.
Sound Structure
This Jabra headphone is capable of delivering deep bass with bright mids and highs. For high pitch, the volume levels don't distort the sound either!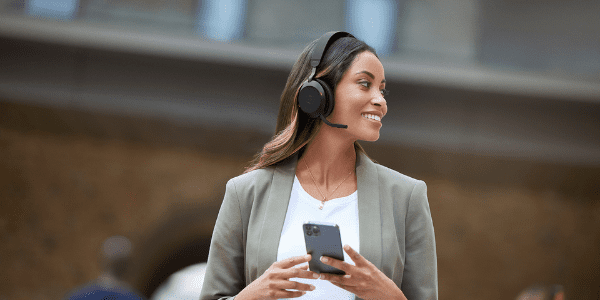 The mic has an eight-array feature, with an equal mix of analog and digital channels. When extended, the boom mic gives you excellent intelligibility. The mic does a superb job of cutting off the background noise and increasing clarity. In our experience, the mic cut off loud fans while also isolating voices.
When the boom mics are pushed back in completely, they automatically go on mute. They also give you the option of turning off this feature with the help of the app.
Our Conclusion
Evolve2 75 is a piece of ingenuity that is the perfect combination of excellent call quality, great ANC circuitry, and also powerful audio drivers while also being comfortable for long-time wear. It is great for your entertainment purpose while also being a great technology for calls. This is the upgrade you deserve in life!
Play your music on full volume while smashing it out on your work platform. Still confused? Watch the video linked below by Teach expert geekyranjit to help you make the decision. Though in our opinion, there is no better option than this to give your life a background score.